If you are planning to propose to your partner, particularly, you might want to consider doing it on a luxury boat where you can both enjoy the sunset scenery as you sip sweet wine. Yacht trips are generally fun and exciting. Your partner will surely enjoy the spectacular sceneries as you cruise along the beautiful mid-Arabian Sea. Seahawk yacht rental provides Special packages for Love proposal on yacht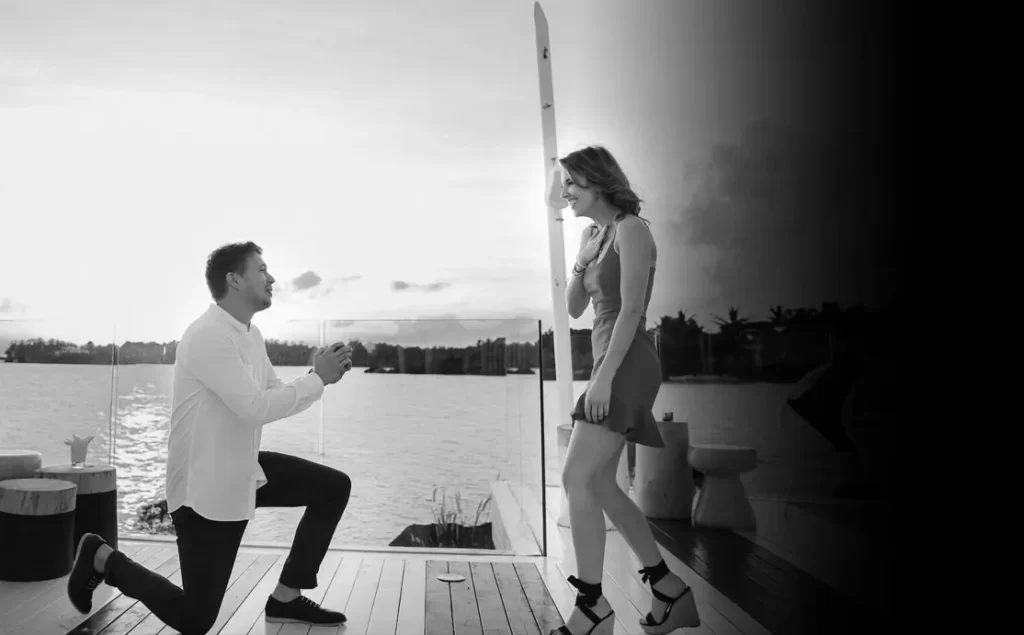 Enjoy a romantic experience...
Nothing can be more romantic than being on the sea with the love of your life while watching the sunset.
Yachts in general just bring a natural romantic vibe that is perfect for dates. For an intimate marriage proposal, particularly, a private yacht is the place to be. A romantic boat getaway will surely make your proposal more touching and memorable.
If you want your proposal to be more memorable, be sure to wait for the sunset. Sunsets can bring out the inner romantic in everyone!
A marriage proposal can be nerve-wracking, but it can also be one of the most memorable moments of your life. To make it more unforgettable, make sure you do it somewhere beyond the ordinary. Being onboard a luxury yacht that is sailing on the breathtaking sea will surely make your proposal ten times better and more romantic!
If you are interested in chartering a yacht for your special day, Seahawk Yachts is available to help you. We offer high-quality yacht charter in Dubai Marina that can accommodate different kinds of occasions, from Corporate tours to mini trips to Romantic dates.
We have small, Medium, and Mega yachts for Corporate Events, Group and Incentives, Family Reunion, Birthday and wedding celebrations, new product launching ceremonies, Deep sea fishing, surprise gift parties, Love proposal on yacht, award distribution ceremonies, Bachelor | Bachelorette Parties, Yacht DJ parties, Anniversaries, New year celebrations, Night out parties, Company Outings.